ATLAS Space Operations, a teleport operator, has won a contract with the U.S. Department of Defense (DoD) to demonstrate a unified federated network including space communications.
Specifically, the Hybrid Space Architecture (HSA) contract was awarded by the Defense Innovation Unit within the DoD.
It will see the company use its cloud-hosted Freedom Network Management Platform to transfer data streams across DoD, Civil and commercial platforms. The value of the contract wasn't disclosed.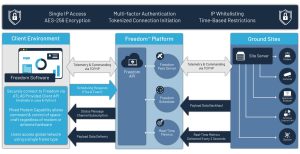 The idea is that the future of space communications will include a mix of existing and new infrastructure, both to address hardware constraints of different clients and cater to growing satellite counts and expanding applications.
The company says it is creating new opportunities for "the entire domain of ground-space data transfer".
"For DoD and commercial clients alike, federated networks are truly the rising tide that is lifting all ships," said Ed McCarty, vp of Global Sales at ATLAS.
"Without changing the client experience, we are opening up a whole new world of communications avenues. It's another example of our dedication to connecting humanity through space."
Pictured above are ATLAS Space Operations AGN-W High Bandwidth Antennas, located in Mingenew, Western Australia.
ATLAS Space Operations is based in Traverse City, Michigan.