Russia has a long history of developing space weapons. It has demonstrated a capability to kinetically intercept satellites in low Earth orbit (LEO) from space and more recently from the ground in late 2021. Additionally, it can use ground-based lasers to dazzle satellites in LEO. Russia can conduct radiofrequency (RF) jamming from mobile platforms against communication satellites in LEO. This article examines Russia's ASAT concepts and places them in the context of military space doctrine that threatens both US and NATO allies' satellites. The increasing threat to satellites has led to the development of the concept of a bodyguard satellite.
Russian counterspace programs
Under Vladimir Putin, Russia has reinvigorated its political desire to obtain counter space capabilities for the same reason as China, to advance its regional power and limit the ability of the US to counter Russia's freedom of action. Russian military thought sees modern warfare as a struggle over information dominance and netcentric operations that can take place without clear boundaries. Russia is pursuing the goal of incorporating EW capabilities throughout its military to both protect its own space-enabled capabilities and degrade or deny those capabilities to its adversary. In space, Russia is seeking to mitigate the superiority of US and NATO space assets by fielding a number of ground, air, and space-based offensive capabilities.
In space, Russia is seeking to mitigate the superiority of US and NATO space assets by fielding a number of ground, air, and space-based offensive capabilities.
The former Soviet Union tested a co-orbital ASAT system known as Isrebitel Sputnikov (IS). This was based on a SS-9 missile and used a shrapnel at an effective range of 50 meters. However, it needed two orbits to approach the target satellite, which gave the target satellite several hours to detect the attack and take evasive action.[1] The IS was capable of targeting satellites up to 2,200 kilometers with an estimated kill probability of 70–80%, and an IS-M system was developed to rendezvous with a single orbit. It was intended to develop the system IS-MD to intercept satellites in GEO, however, the program was ended in 1993.[2]
Russia has been testing technologies for rendezvous and proximity operations (RPO) in both LEO and GEO in order to develop a co-orbital ASAT capability.[3] Russia is likely to have started a co-orbital ASAT program called Burevestnik.[4] The concept of Burevestnik is most likely that it will not carry a kinetic kill vehicle like its Soviet predecessor, but will serve as a launch vehicle for small interceptor satellites that can approach and disable enemy satellites.[5] The status of this program is unclear, as open reporting is often contradictory, nevertheless, the concept appears to be one modified out of Soviet-era development, and as such cannot be ruled out.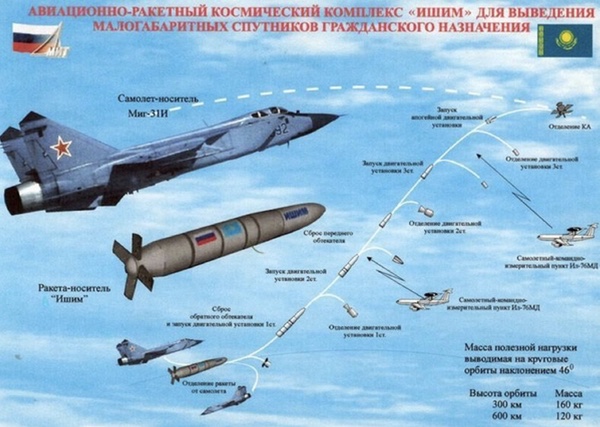 Figure 1: Burestvestnik showing Ishim rocket flying to space from a MiG-31.[6]
There were plans to use the MiG-31 as a satellite launch platform in the late 1990s, with a 2005 proposal called Ishim to equip the aircraft with a three-stage solid-fuel rocket capable of placing 160-kilogram satellites into 300-kilometer orbits with a 46-degree inclination.[7]
Russian RPO in LEO
On December 25, 2013, three small satellites were launched into LEO which looked like a routine Rodnik Satcom activity. The Russian MOD publicly announced the three satellites, Cosmos 2488, 2489, and 2490, had successfully separated from the upper stage. However, a fourth payload, Cosmos 2491, was cataloged by the US military. Cosmos 2491 remained dormant until the end of 2019, in LEO at an altitude of 1500 kilometers. Cosmos 2491 was identified by NASA as a secretive Russian satellite that performed orbital rendezvous and inspection maneuvers.[8]
On May 23, 2014, during another Rodnik mission, three military satellites were declared by the Russian government: Cosmos 2496, 2497, and 2498. Similar to the 2013 launch, a fourth payload was identified, Cosmos 2499. In mid-June 2014, Cosmos 2499 began a series of maneuvers to match the orbit of the Briz-KM upper stage that had placed them in orbit. At the end of November 2014, Cosmos 2499 passed within a kilometer of the Briz-KM. They then drifted apart, until in January 2015 Cosmos 2499 did a further series of maneuvers to achieve an orbit a few kilometers above and several hundred kilometers away from the Briz-KM. On March 26, 2016, Cosmos 2499 adjusted its orbit slowly bringing it closer to the Briz-KM by about tens of kilometers per day.[9]
Cosmos 2523 was released at a velocity of 27 meters per second. At this speed, it appears likely that Cosmos 2523 could be a projectile and part of an ASAT mission.
On March 31, 2015, three Gonets-M satellites were launched and openly declared as Gonets M11-M13, along with a classified military payload, Cosmos 2504. In April 15, Cosmos 2504 maneuvered to bring it close to the Briz-KM upper stage. Between April 15 and 16, 2015, Cosmos 2504 went from an estimated 4.4 kilometers to 1.4 kilometers below the Briz-KM.[10] On July 3, 2015, Cosmos 2504 lowered its apogee and perigee by around 50 kilometers each, maneuvering away from the Briz-KM. After a period of inactivity, on March 27, 2017, Cosmos 2504 lowered its orbit and passed within two kilometers of a piece of Chinese debris from the 2007 ASAT test. This could indicate that Cosmos 2504 was an inspection satellite.[11]
On June 23, 2017, Cosmos 2519 was launched, which Russian officials included "a space platform which can carry different variants of payloads." It made a series of small maneuvers in late July and August. On August 23, 2017, a small satellite designated Cosmos 2521 separated from Cosmos 2519. Cosmos 2521 was declared by Russian officials as "intended for the inspection of the condition of a Russian satellite." On October 30, Cosmos 2523 another small satellite, separated from Cosmos 2521. Cosmos 2523 was released at a velocity of 27 meters per second. At this speed, it appears likely that Cosmos 2523 could be a projectile and part of an ASAT mission. Throughout March, April, and June 2018, Cosmos 2519 and 2521 conducted several RPOs of each other.[12]
On July 10, 2019 Russia launched another set of four military payloads, designated Cosmos 2535, 2536, 2537, and 2538. On August 7 to 19, Cosmos 2535 and 2536 began a series of RPO with approach distances as close as 30 kilometers before backing off to 180 to 400 kilometers.
On November 25, 2019, Russia launched Cosmos 2542, which was likely the second satellite in the Nivelir series. On December 6, Cosmos 2542 released a subsatellite, Cosmos 2453, which remained within two kilometers of Cosmos 2542 for three days before it conducted a series of maneuvers to raise its apogee to 590 kilometers by December 16. These maneuvers suggest that Cosmos 2453 moved to where it could observe a US intelligence satellite, USA 245. Cosmos 2453 came within 20 kilometers of USA 245 several times in Janunary 2020. This proximity sparked concerns from the then-commander of US Space Command. It is likely that Cosmos 2453 was an inspection satellite.
In June 2020, Cosmos 2543 maneuvered to come within 60 kilometers of Cosmos 2535. On July 15, similar to the event of the first Nivelir, a small piece of debris separated from Cosmos 2543 at a relative velocity between 140 to 186 meters per second.[13] It is likely this is a similar event to Cosmos 2523 in October 2017, which was the first of Russia's Nivelir test program. Both the US and UK Space Commands called on Russia to desist their testing of the system.
Direct ascent missile
Nudol is being developed for direct-ascent ASAT operations. Almaz-Antey, whose principal role is active space defense technologies, has pitched the system as valuable for holding US LEO assets at risk.[14] Nudol is a TEL-based system composed of the 14A042 Nudol rocket, 14P078 command and control system, and 14TS031 radar.
Nudol is undergoing flight testing and it has been reported as being tested around ten times, with varying levels of success. In November 2021, Russia successfully intercepted one of its own satellites in LEO, using Nudol. The operational capability of NUDOL is up to 850 kilometers. It is likely, given successful testing, Nudol will be operational by 2025.
Russian electronic warfare
Russia places a high priority on integrating EW into military operations. The Russian Army fields several types of mobile EW systems capable of jamming specific satellite communication user terminals with tactical ranges.[15] Russia can likely jam communications satellites uplinks over a wide area from fixed ground facilities. Russian military doctrine calls for incorporating EW capabilities throughout its services to not only protect its space-derived capabilities but also seek to deny those capabilities to its adversaries. In the realm of space, Russia is attempting to mitigate the US space superiority by developing and fielding a number of ground-, air-, and space-based offensive capabilities.[16]
More recently in the Russian invasion of Ukraine, Russian jamming of GPS signals in Ukraine was detected by US forces in the region.
Russia has developed fixed and mobile jammers. To protect fixed facilities Russia is deploying 250,000 GPS jammers on cell phone towers through the country with the aim of reducing the accuracy of foreign UAVs and cruise missiles over the Russia landmass.[17] These Pole-21 systems are reported to have an effective range of 80 kilometers. The second category are mobile systems and are integrated within mobile EW units. They are equipped with multifunctional EW equipment, some of which have GPS jamming capability. Two of these are the R-330Zh "Zhitel" and the "Borisoglebsk-2". These systems protect Russian units by jamming tactical signals. These systems have been deployed in support of Russian deployments to Syria and Ukraine.
Russia demonstrated its GPS jamming capability during the Russian 2017 Zapad military exercise and during a NATO exercise, when Norway determined Russia was responsible for jamming GPS signals in the Kola Peninsula during Exercise Trident Juncture.[18] The Organization for Security and Co-operation in Europe (OSCE) in April 2021 identified an increase in GPS jamming by Russia, or pro-Russian forces, in Ukraine. On April 6, 2021, a Special Monitoring Mission long-range UAV was unable to take off from a Ukrainian airbase in Stepanivka due to GPS signal interference.[19] More recently in the Russian invasion of Ukraine, Russian jamming of GPS signals in Ukraine was detected by US forces in the region.[20]
On February 24, 2022, a cyberattack against a commercial satellite network belonging to the US company Viasat not only had an impact on Ukrainian military actors but also damaged the terminals of civilian customers across Europe and affected thousands of wind turbines in Germany.[21] Tens of thousands of satellite modems had their Internet service knocked out after being flooded with traffic along with destructive commands to overwrite key data. This highlights the wider impact that cyberattacks can have on the satellite industry. The cyberattack is likely to have come from Russia.
Satcom jamming
The R-330Zh "Zhitel" mobile jammer is reported to able to jam commercial Inmarsat and Iridium receivers within a tactical local area. The TsNII research institute has declared that Tirada-2S was under development and will be used to conduct uplink jamming of comsats.[22] It is likely Tirada-2S is currently in service. Another system under development is Bylina-MM, which is designed to suppress the onboard transponders on comsats such as Milstar, Skynet, and Italsat.[23]
A key project in Russia's EW program is TOBOL designated 14Ts227, with a project infrastructure code of 8282. The following Tobol sites are mentioned:
8282/1: near Shcholkovo (Moscow region) (NIP-14) (military unit 26178)
8282/3: near Ulan-Ude (Republic of Buryatiya) (NIP-13) (military unit 14129)
8282/4: near Ussuriysk (Primorskiy region) NIP-15) (military unit 14038)
8282/5: near Yeniseisk (Siberia) (NIP-4) (military unit 14058)
8282/6: near Pionerskiy (Kaliningrad region) (military unit 92626)
8282/7: near Armavir (Krasnodar region) (no known NIP number) (military unit 20608)[24]
Indications about the goals of Tobol suggest that the site would have an array of ground-based antennas that would pick up and jam what are called unauthorized signals sent to satellites or relayed via satellites to the ground. Vatutin, who heads a department within Russian Space Systems and is identified as Tobol's chief designer, has co-authored several papers and patents related to the protection of satellites from electronic attack. One such patent describes an array of ground-based antennas that would be used to pick up and jam unauthorized signals sent to satellites relayed via satellites to the ground.[25] In another scenario, unauthorized signals downlinked from a satellite to the ground would be identified by monitoring stations, following which the tropospheric stations would transmit jamming signals that would reach receivers after being reflected off the troposphere and cancel out the effects of the unauthorized signals.[26]
Another paper co-authored by Vatutin discussed the possibility of using EW techniques to prevent both optical and radar reconnaissance satellites from sending images to data relay satellites as they fly over. This reflects growing interest in the use of EW systems to counter foreign reconnaissance assets.
The Krashuka-4 mobile EW system, designed to counter airborne early warning and control and other airborne radar, has an effective range of 300 kilometers. Due to its range and power, it is also effective against LEO synthetic aperture radar (SAR) imaging satellites.[27]
Directed energy weapons
Russia has a long history of research in high-energy laser physics. Russia revived its old Soviet Airborne Laser system in 2012, called Sokol-Echelon. The Russian ABL was designed to counter space-based reconnaissance assets in the infrared part of the spectrum, dazzling rather than destroying.[28] The laser type selected was a carbon monoxide laser. In mid-2018 a court document declared that the MOD had decided to cancel the project in late 2017, however, contracts signed as part of the project continue to appear on the Russia's government procurement website afterwards.
Russia is upgrading its Krona optical surveiallnce system in North Causcasus with laser dazzling capabilities. The Krona complex historically included ground-based radars and optical telescopes for tracking, identifying, and characterising space objects. Under a project code-named Kalina for the Ministry of Defence, its goal was the creation of a channel for the supression of electro-optical systems of satellites using solid-state lasers.[29] Russia is also planning to develop a laser with a range of 40,000 kilometers to attack early warning satellites in geosynchronous orbit.[30]
Protection satellites from threats: Bodyguard satellites
The concept of a Bodyguard satellite is a co-orbital satellite able to serve against increasing threats to satellites in orbit. It offers continuous monitoring of the environment of approaching objects, provides indicator and warning of threats prior to attack, and characterization of range, source, and capabilities. Bodyguard satellites can counteract and disrupt stalker satellite activity.
For space defenses to act as a deterrent, an opponent must believe such defenses exist and that they are effective, even if the opponent does not fully understand what they are or how effective they may be.
Bodygard satellites is part of what would be termed Active Defense. This can be divided into two categories based on where these defensive systems are based. Space-based defenses include onboard systems that are integrated in to the satellites they protect, and offboard systems that are hosted on separate satellites such as Bodyguard satellites. Offboard defenses can be used to provide "zone defense" of multiple satellites or act as defensive patrols that roam within orbital regimes in response to threats. Terestrial defenses are cross-domain systems based on Earth that target counterspace systems and the systems that support them either on Earth or in space.[31]
An offboard jamming and spoofing system could be placed on a Bodyguard satellite. This could disrupt sensors on an incoming kinetic ASAT weapon so that it cannot steer itself effectively in the terminal phase of flight. Similar systems could be used to deceive space domain awareness sensors by altering the reflected radar signal to change the location, velocity, and number of satellites detected, similar to digital radio frequency memory (DRFM) jammers are used on military aircraft. A challenge for offboard systems is that they may not be within the field of view of the sensors on an incoming ASAT warhead. For both onboard and offboard systems, their effective operation depends on an accurate characterization of the radar and communication systems on threats before an attack commences.[32]
Laser systems can be used to dazzle or blind the opical or infrared sensors on an incoming ASAT weapon in the terminal phase of flight. Blinding an ASAT weapon's guidance system could allow a satellite to effecitively "evade" a kinetic attack. It could also be used to blind the optical sensors on inspector satellites to prevent them from imaging a satellite that wants to keep its capabilities concealed or frustrate enemy space domain awareness. An onboard laser system would add weight and power requirements competing for mission payload resources. Placing an offboard laser system on a bodyguard satellite, provided they could be maneuvered within the field of view of the sensors of an incoming ASAT weapon when they are needed. The effective operation of a laser defense system depends on an accurate characterization and understanding of the technical capabilities such as the the wavelengths of light to which an adversary sensors are sensitive.
Satellites could be equiped with systems that either fire a projectile at at an incoming ASAT weapon or use a HPM to have physical destructive effects, such as overheating or causing short circuits. A drawback to a kinetic system is that it could leave orbital debris that could affect the safe operation of the protected satellite. A variation on a weapon system would be to use the bodyguard satellite itself as a co-orbital system in extremis. A potential weakness to this approach is that an adversary could launch a salvo of ASAT weapons to saturate the defenses.
A space vehicle could be used to physically seize a threatening satellite that is being used to attack or endanger other satellites. Such a system could also be used to collect and dispose of harmful orbital debris resulting from an attack. A key limitation of a physical seizure system is that each satellite would be time and propellant limited depending on the orbit in which it is stored. Several commercial companies are developing capabilities for on-orbit servicing. A distinguishing feature would be the ability to conduct proximity operations with an uncooperative or uncontrolled object.
Space defenses both raise the expected costs and reduce the expected benefits of beginning or extending conflict into space. For space defenses to act as a deterrent, an opponent must believe such defenses exist and that they are effective, even if the opponent does not fully understand what they are or how effective they may be.[33]
Systems with a defensive mission are sometimes called DSATs (defensive satellites). DSAT systems are only effective over a very limited range and they are associated with a specific satellite system. In this case, DSATs could legitimately be seen as strictly defensive, since they could not attack an opposing ASAT system unless it advanced within range. Self-defense systems could not be added to current satellites, since the weight and power requirements of such add-on systems could make the satellite they would be protecting become commercially unviable.[34]
Endnotes
B. Weeden and V. Samson, Global Counterspace Capabilities, April 2021, 66
B. Weeden and V. Samson, Global Counterspace Capabilities, April 2021, 67
B. Weeden and V. Samson, Global Counterspace Capabilities, April 2021, 17
B. Weeden and V. Samson, Global Counterspace Capabilities, April 2021, 17
B. Hendrickx, Burevestnik: a Russian air-launched antisatellite system, 27 April 2020
B. Hendrickx, Burevestnik: a Russian air-launched antisatellite system, 27 April 2020
B. Hendrickx, Burevestnik: a Russian air-launched antisatellite system, 27 April 2020
B. Weeden and V. Samson, Global Counterspace Capabilities, April 2021, 70
B.Weeden, "Dancing in the Dark Redux: Recent rendezvous and proximity operations in space," The Space Review, 5 October 2015
B. Weeden and V. Samson, Global Counterspace Capabilities, April 2021, 70
B. Weeden and V. Samson, Global Counterspace Capabilities, April 2021, 71
B. Weeden and V. Samson, Global Counterspace Capabilities, April 2021, 73
B. Weeden and V. Samson, Global Counterspace Capabilities, April 2021, 80
B. Weeden and V. Samson, Global Counterspace Capabilities, April 2021, 87
B. Weeden and V. Samson, Global Counterspace Capabilities, April 2021, 18
B. Weeden and V. Samson, Global Counterspace Capabilities, April 2021, 88
Mark Episkopos, GPS Jamming: can NATO Defeat This Russian Weapon in the Arctic?, National Interest, 3 March 2021
Spot Report 6/2021: SMM long-range UAV unable to take off due to dual GPS signal interference, 7 April 2021.
Theresa Hitchens, "Local" Russian GPS jamming in Ukraine hasn't affected US Support ops, so far, Breaking Defence 1 March 2022.
The War in Ukraine and the European Space Sector, ESPI Briefs, May 2022.
Bart Hendrickx, "Russia gears up for electronic warfare in space (part 1)," The Space Review, October 26, 2020
B. Weeden and V. Samson, Global Counterspace Capabilities, April 2021, 91
Bart Hendrickx, "Russia gears up for electronic warfare in space (part 2), The Space Review, November 2, 2020.
Bart Hendrickx, "Russia gears up for electronic warfare in space (part 2), The Space Review, November 2, 2020.
Bart Hendrickx, "Russia gears up for electronic warfare in space (part 2), The Space Review, November 2, 2020.
B. Weeden and V. Samson, Global Counterspace Capabilities, April 2021, 91
Bart Hendrickx, "Peresvet: a Russian mobile laser system to dazzle enemy satellites," The Space Review, June 15, 2020.
Bart Hendrickx, "Peresvet: a Russian mobile laser system to dazzle enemy satellites," The Space Review, June 15, 2020.
Zhenhua Liu , Chuanwen Lin and Gang Chen, "Space Attack Technology Overview" Journal of Physics, 2020
Defence Against the Dark Arts in Space, Protecting Space Systems from Counterspace Weapons, CSIS Feb 2021.
Defence Against the Dark Arts in Space, Protecting Space Systems from Counterspace Weapons, CSIS Feb 2021.
Defence Against the Dark Arts in Space, Protecting Space Systems from Counterspace Weapons, CSIS Feb 2021.
Steve Fetter, Protecting Our Military Space Systems, 1988, 14
---